Valleyfair
MERSC Program: Savings on Tickets & More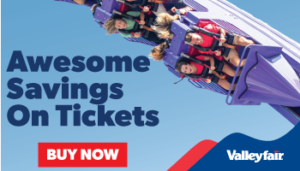 CLICK HERE to purchase tickets!
Valleyfair offers a variety of options for MERSC member corporations, including great catering selections and huge savings on admission tickets.
Catered Event – a great summer tradition! Treat your group of 50 or more to an all-you-can-eat catered event. Let the Valleyfair team take care of the entire day, including the food. Our ever-growing catering menu is easy and affordable, and our expanded Picnic Point is the perfect location to accommodate groups of all sizes. Plus, a catered outing provides the best savings on Valleyfair admission tickets!
One Day Group Event – pick a specific day for your group of 15 or more and save up to 40% off regular admission price. We offer indoor meeting space, team building options and fun for the entire group!
Buy-Out the Park. Enjoy unlimited access to over 75 rides and attractions when you buy-out the park for EXCLUSIVE use by your company. Add in a delicious catering option and your group will have the perfect day at Valleyfair!
We also offer several choices for Cost-Free Ticket Programs. Receive BIG savings on admission and breeze by the lines at the admission tickets booths:
Good Any Day (GAD) Ticket Program – This program is a great way to reward employees at no cost to your company. It's easy and convenient with no money up front so you only pay for the tickets you sell.
Online Ticket Program. With an online ticket program there is no need to worry about ticket inventory or money handling. Employees enjoy substantial savings on admission tickets and more along with the freedom to visit any day during the season that works best for them. They can take advantage of the huge savings from the comfort of their own home. Simply click, print & go!